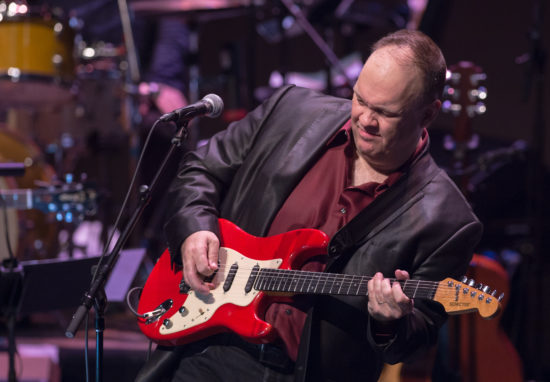 The holidays have found a new rocking tradition! Emmy winner and Grammy-and-Tony- nominated Rob Mathes returns to the Schimmel stage with his band of all-star musicians including instrumentalists from Saturday Night Live and the Late Show with David Letterman. Come for an afternoon of funk- and R&B-laden original tunes, holiday classics, and audience favorites to put you in the spirit of the season.
We sat down with Rob to discuss his band, music, and favorite holiday traditions. Here's what he had to share:
SC: What inspired you to create an annual holiday concert?
RM: I have always adored the traditions of the holiday, Dickens, and the best of the carols, such as "In The Bleak Midwinter" and "In Dulci Jubilo." As a kid, my folks made Christmas a festival of joy, love, and hope and to me, I can't be filled with these unless music surrounds me, be it Bach, Radiohead, or Art Blakey and The Jazz Messengers. I had to put something together to celebrate the transformative nature of music. My renowned studio musicians, who have become family, and I would spend the year tending other people's musical gardens; this has become a chance for us to have our own celebration around the holidays.
SC: Can you share a little background info on members of your band?
RM: They are all superstars. Will Lee is one of the greatest and most lauded bass players in the history of the New York scene. He has played on thousands of great records with everyone from Clapton to Streisand to you name it. Will was the longtime bass player on Late Night with David Letterman, and by connection, plays the Rock n Roll Hall Of Fame every year with Paul Shaffer.
Billy Masters is one of the most exceptional slide and Americana guitar players out there. He's spent much of his life playing for singer-songwriters like Dar Williams, Suzanne Vega, and Cry, Cry, Cry and he's fantastic.
Both Vaneese Thomas and James D-Train Williams, our vocalists, put out their own records and D-Train had a bunch of hits in the 80's. They are treasures of the NY scene. Both of
them have sung with Michael Jackson, Sting, Eric Clapton, Stevie Wonder and a million others. Giants.
Joe Bonadio, one of our drummers, plays with Marc Cohn and Sting. Shawn Pelton, our other drummer, is the longtime drummer on SNL and has made records with Bob Dylan, Bruce Springsteen, Sheryl Crow, and many others.
The horn section is full of the best of the best in Manhattan. Andy Snitzer, our tenor sax genius, regularly plays in Paul Simon's band. Mike Davis on trombone has spent much of the last 20 years on the road with The Rolling Stones. It is just a band of musical superstars, men and women who have given their lives to music and give this one weekend to me, which is humbling.
SC: You've worked with a long list of brilliant artists including Sting, Beyonce, Elton John, Panic! At The Disco, Fall Out Boy, and more. Any artists out there who you
haven't worked with who are on your bucket list?
RM: I always wanted to work with Bruce Springsteen and have gotten to over the past few years, which has been fantastic. I had dreamed of working with Bowie, but he's gone now. I would like to work with some more instrumentalists, doing larger orchestrations and arrangements for the likes of Branford Marsalis, Pat Metheny, or Bill Charlap. I adore the record Cityscape that composer Claus Ogerman wrote for Michael Brecker and obviously the Gil Evans-Miles Davis records. I arranged some albums for the incredible Brazilian jazz pianist Eliane Elias and the last one we did, Made In Brazil, won a Grammy.
SC: What is your favorite genre of music?
RM: Impossible question. Life wouldn't be worth living without: Duke Ellington's Such Sweet Thunder, Stravinsky's Violin Concerto, Beethoven's last three piano sonatas, Radiohead's In Rainbows, John Coltrane's Live at the Village Vanguard, The White Album, modern projects like Beyonce's Lemonade and Frank Ocean's Blonde, Miles Davis's Porgy and Bess, Peter Gabriel's Us, Sting's Nothing Like The Sun, Stevie Wonder's Innervisions, Joni Mitchell's Hejira, the John Rutter Christmas Carol records with The Cambridge Singers, Vaughan Williams Dona Nobis Pacem and Symphony No. 5, and Laura Marling's Once I Was An Eagle.
Much of our best music is made by people that do one thing beautifully and speak their own language. For me? My dad loved Dylan. My uncle played in big bands. My aunt played bassoon with the New York City Opera. My mother taught Beethoven and Bach in the front room of our house from 2 pm to 7 pm every weekday for my entire childhood. It is what I know. It is a life in music.
SC: How do you spend your free time?
RM: Listening to and studying music and writing it or spending time with my wife Tammy and three girls Emma, Sarah and Lily.  I also love attending plays and visiting museums with them.
SC: Any holiday traditions at home for the Mathes family?
RM: The tree, Alastair Sim's version of Scrooge, It's a Wonderful Life, and the holiday concerts.
SC: Favorite artist?
RM: Impossible, as evidenced above. Top five? Ellington, Stevie Wonder, Stravinsky, Mahler, and maybe The Beatles.
SC: Favorite Holiday song?
RM: In "The Bleak Midwinter," the Gustav Holst setting, and the brilliant and moving "In Terra Pax," which is a short cantata for baritone soloist, choir, and orchestra and was written by the great English composer Gerald Finzi – just so beautiful. It's based on a poem by Robert Bridges. Here are the first few lines:
A frosty Christmas Eve
   when the stars were shining
Fared I forth alone
   where westward falls the hill,
And from many a village
   in the water'd valley
Distant music reach'd me
   peals of bells aringing:
The constellated sounds
   ran sprinkling on earth's floor
As the dark vault above
   with stars was spangled o'er.
Don't forget we groove some serious Hanukkah mojo also. I do a version with horns of the Dreidel Song dedicated to Duke Ellington's great partner Billy Strayhorn and based on his inimitable musical language! Love to all!
Celebrate the holidays with Schimmel Center at The Rob Mathes Holiday Concert.
For tickets and more information, visit schimmelcenter.org.