Paul Taylor is one of the last living legends given to us by the second generation of the twentieth century's modern dance movement. His dance is more than movement and storytelling. His choreography moves the spirit by tackling hard-hitting issues, such as war, piety, spirituality, sexuality, morality and mortality head on.  In the early 1950's, Taylor's work was so controversial that it sent audiences running from the theatre and Martha Graham even dubbed him "the bad boy of dance."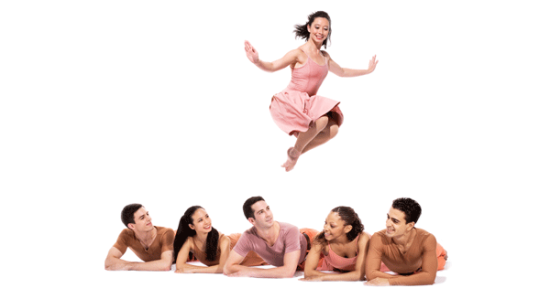 This weekend, we are proud to have Paul Taylor's chamber- sized dance company, Taylor 2 to present some of Taylor's best known works in an intimate and personal presentation. One of those pieces is "AIRS." When the piece originally debuted in 1978, some modern dance enthusiasts didn't know what to make of the piece. They viewed it too "accessible" as it took its accompaniment from a classical composition by Handel. Many regard the piece as one of their favorites because of the light and breezy mood it evokes.
Our lucky audiences will also get to experience the New York premiere of one of Taylor's latest pieces, entitled, "The Uncommited." The piece debuted in 2011 at the American Dance Festival in Durham, North Carolina in honor of the festival's director, Charles L. Reinhardt . The New York Times described it as both "beautiful and raw." Set to musical compositions by Estonian composer, Arvo Pärt, Taylor's dance propels us into a world where the viewer learns that "loneliness is not the same as being alone."
The third piece on the roster for this weekend's offering is "Esplanade." Taylor created this piece in 1971 to explore the beauty in every day, pedestrian movement. Inspired by contemporaries such as Jasper Johns and Robert Rauschenberg who used "found objects" in their art, Taylor decided to create a dance that was comprised of "found movements" from the real people around him.
This weekend's presentation is a rare treat for true Paul Taylor fans as well as a perfect sampling for those who have yet to discover this master's work. Not only will our audiences get to watch three stunning pieces from three different era's of the master's career, they will also treated to live musical accompaniment by the esteemed Kenneth Hamrick and American Virtuosi. The six dancer ensemble brings about a never before seen or felt intimacy with Taylor's choreography. Come join us for this truly amazing program.
To purchase tickets, visit schimmel.pace.edu or call (866) 811-4111.
See you at the Schimmel!
Michael Scott-Torbet
Pace Presents Blogger
An earlier version of this post incorrectly stated that the performance would include a piece titled "AUREOLE."
TAYLOR 2
April 24th, 7:30pm | April 25th, 7:30pm | April 26th, 7:30pm
$40|$35|$25
Paul Taylor's renowned 
Taylor 2 Company
, composed of six professionals with a particular gift for his style, are headed back to the Schimmel! The program consists of three of Paul Taylor's works; 
"AIRS"
 with music by 
George Frideric Handel
, 
"ESPLANADE,"
with music by 
Johann Sebastian Bach
, and 
"THE UNCOMMITTED"
 with music by 
Arvo Pärt
.Live music for these performances is the result of a special collaboration with the distinguished 
American Virtuosi
, an ensemble of period and modern instruments, conducted by 
Kenneth Hamrick Artistic Director
.Come and see Taylor 2 and hear American Virtuosi. This is the way Mr. Taylor's dances were meant to be experienced! 
Live music made possible by a gift from Dr. Frank L Ellsworth and Dr. Kristin L. Ellsworth 
and the American Virtuosi Foundation Inc. as part of the Live Music for Dance Initiative.