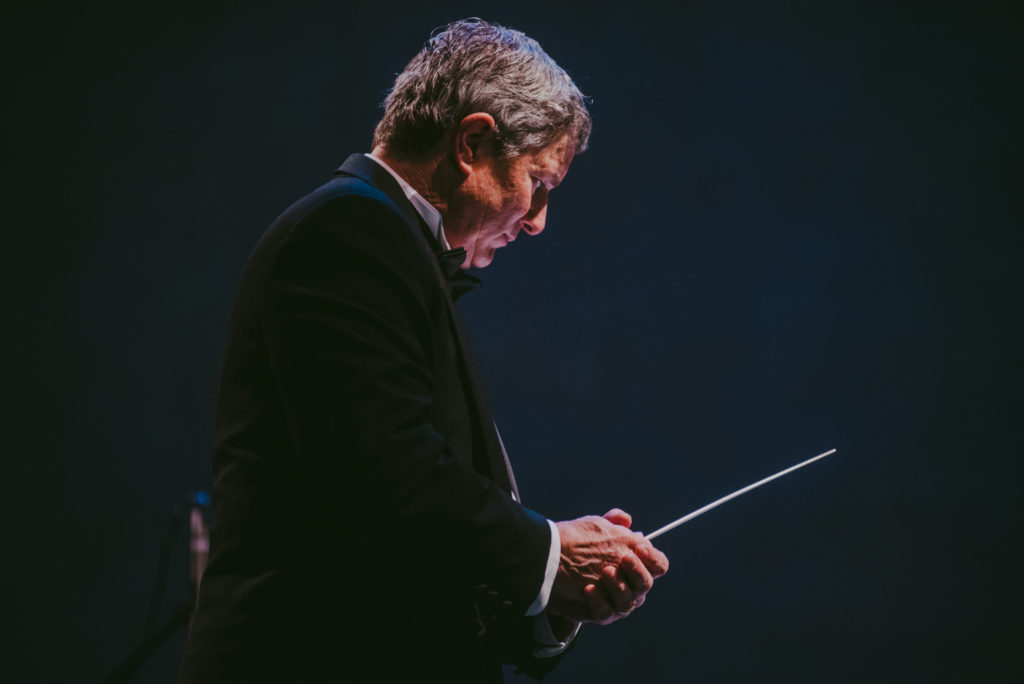 Tackling the impact of gun violence in the United States, The Struggle To Forgive: Confronting Gun Violence in America is a new musical dramatic work that hauntingly gives voice to the victims of gun violence. We sat down with Knickerbocker Chamber Orchestra Founder, Music Director, and Composer Gary Fagin to discuss this new piece and his work in Downtown Manhattan.
1) What inspired "The Struggle to Forgive?"
There wasn't one particular gun-related tragedy that inspired me to begin work on "Struggle To Forgive;" it was more an accumulation of gun-elated events, always in the back of my mind, that finally reached a point where it was an issue that I felt I had to address artistically.
2) What is so special about this work compared to others you have performed in the past?
This is personal, for me and the Knickerbocker Chamber Orchestra; in 2014 the KCO, and the entire New York musical community, lost a beloved violinist to senseless gun violence. On the May 4 program, we will also perform a work in her memory, "Prayer for Mary."
3) Do you find that music is a powerful way to get messages across to the public?
It's not that music is necessarily a more powerful way to get messages to the public; but I believe messages conveyed via music go to a different place in our brains, into our subconscious, where we are affected more profoundly, in a deeply meaningful way.
4) Gun violence is clearly a very prevalent, yet sensitive, topic in our society today. What were the challenges in creating this piece?
The main challenge was the point of view. I didn't want the piece to be political; my personal feelings are clear throughout the work, but the piece's main focus is to give voice to those affected by gun violence.
5) You are a composer, conductor, AND arranger. Which is your favorite and why?
Composition gives me the greatest pleasure; it's the most creative, and the most satisfying, i.e., creating something entirely new and personal.
6) What is the best part about teaching music at so many institutions across the country?
My main teaching is in my studio here in New York, where I am privileged to work with wonderful professionals and students in both the classical music and music theater arenas.
7) Could you speak briefly on the KCO's Youth Outreach program and why it's so important?
The KCO's Youth Outreach program is a key part of the KCO's mission. When I was growing up, classical music was considered "high art," compared to other types of music. Nowadays, classical music is perceived to be on the same plane as other types of music, which is a good thing, but which means that we classical musicians must be more active in promoting our music in this crowded musical landscape, especially to young people, who are less exposed to the beauty and magnificence of classical music.
8) To this day, what would you say has been your most memorable performance and why?
This is a hard question to answer; the KCO has had many memorable performances in our 10 years, including many world premieres, but I would say the most musically satisfying performance came early on, at The Schimmel Center, a truly exquisite performance by clarinetist Jose Franch Ballester of Mozart's other-worldly Clarinet Concerto.
9) If you could give one piece of advice to hopeful composers/conductors, what would it be?
Don't wait for the phone to ring; if you feel compelled to create or perform, gather around you the best musicians you can find, the musicians you most want to work with. You'll need money, so you can't be afraid to ask for support; believe in yourself and the worth of your ideas and your work, and others will believe in you as well. Begin by keeping your goals modest, so you can realize your dreams, one by one. And, above all, keep the level of craft and artistry as high as possible; compromise as little as possible artistically.
We're pleased to present the world premiere of Knickerbocker Chamber Orchestra's "The Struggle to Forgive: Confronting Gun Violence in America" on Friday, May 4 at 7:30 PM. For tickets and more information, visit schimmelcenter.org.